01.06.1794 - 220 Jahre Seeschlacht am Glorreichen 1. Juni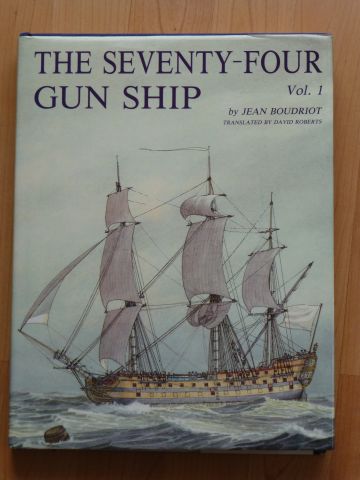 Titel: The Seventy-Four Gun Ship, Vol. 1 bis Vol. 4
Autor: Jean Boudriot
Verlag: Jean Boudriot Publications
Erscheinungsjahr: 1986-1988
ISBN: Vol. 1 - 2-903178-14-3
         Vol. 2 - 2-903178-15-1
         Vol. 3 - 2-903178-16-X
         Vol. 4 - 2-903178-17-8
Preis: 416,-€, zusätzlicher Plansatz im Maßstab 1/72 - 42.-€
Das Rückgrat der französische Schlachtflotte in der Schlacht am Glorreichen Ersten Juni heute vor 220 Jahren (siehe Jahrestage auf Modellmarine) bildeten 74-Kanonenschiffe. 
Inhaltsverzeichnis
Volume 1 - Hull Construction
Administration of the Ports and Dockyards

General Organisation
Surveyors
Summary Table

The work of the Surveyors

Qualities Demanded of a Warship
Study of Hull Shapes
Ships Draughts
Calculations
Specifications

The Work of the Shipwrights

Moulding in the Loft
Marking out and Fashioning in the Yard

Dockard and Installations

Slipway and Keel Blocks
Raising and Horning of the Timbers
Launching

Hull Timbers

Keel and Stern Timbers
The Station-Frames
Stern-Frame
Filling Timbers
Reinforcement and Planking of the Hold
Construction of the Decks
Internal Planking above the Hold
Description of other Inboard Works
External planking of the Hull

Fastening - Caulking

Nails - Fastenings
Nailing - Fixing of the Bolzts
Oakum - Pitch

Tables, etc.

Table of Dimensions
Table of Scantlings
Sequence of Construction
Vocabulary
Volume 2 - Fitting Out the Hull
Hull Fittings

The Bow
The Ship's Sides
The Stern

Internal Arrangements

The Hold and Orlop
The Gundeck
The Upper Deck
The Forecastle, Quarterdeck and Poop
The Officers' Quarters
Paintwork

Ballast and Stowage

Ballast
Stowage
Victuals

Warrent-Officers' Stores

The Bo'sun
The Cook and the Baker
The Master
The Carpenter
The Caulker
The Gunner
The Master-at-Arms and the Armourer
The Sip's Boats
The Chaplain
The Surgeon
The Midshipmen
Sundry Items of Stores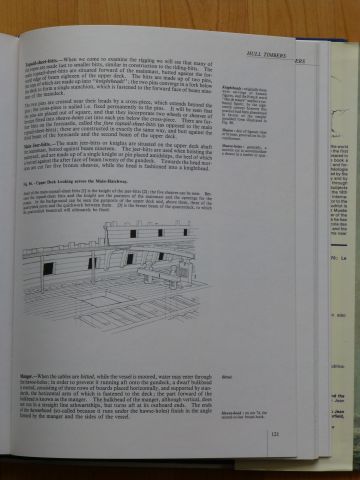 Volume 3 - Masts - Sails - Rigging
Masting

General Considerations
Types of Timber and Mast-Making
Standing Masts
Other spars, and spares
Mast furniture

Sails

Sailcloth and Sailmaking
List of Sails and their Proportions

Rigging

Ropemaking and Related Skills
Blocks and Block-Making
Standing Rigging
Running Rigging - Yards
Running Rigging - Sails
Anchor Cables and Related Ropes
Rigging of the Ship's Boats

Maintenance
Volume 4 - Manning - Shiphandling
The Crew

Officers - Volunteers - Midshipmen
The Men
The Marines
Supernumeraris

Officers and Crew at Work

Functios - Responsibilities
Watch-Bill, Quarter-bill, Messing
Policing - Discipline
Seameanship
Fighting Drill

Life on Board

Clothing - Berthing - Other Details
Religious Observance
Victuals
Health and Health care

Shiphandling

The Ship in the Harbour
Anchored in the Roards
Shiphandling at Sea

Naval Evolutions and Operations

Single Ship Evolutions
Fleet Operations

Navigation _Coloures and Signals

Navigation Instruments
Navigation
Flags, Coloures and Signals
Inhalt
Jean Boudriot beschreibt in den vier Bänden von "The Seventy-Four Gun Ship" die Konstruktion eines französischen 74-Kanonen-Schiffs und das Leben der Offiziere und Mannschaften an Bord.
In Band 1 der Reihe stellt er die Organisation einer französischen Werft vor und beschreibt die Konstruktion des Rumpfes. In Band 2 widmet sich der Autor den zahlreichen Ausrüstungsdetails des Schiffs. Der Takelage ist Band 3 der Reihe gewidmet. In Band 4 schildert der Autor das Leben der Besatzung auf dem Schiff.
Zahlreiche Grafiken und ausklappbare Tafeln ergänzen den Text.  Zusätzlich werden die ausklappbaren Tafeln auch als Planmappe im Maßstab 1/72 für Modellbauer angeboten.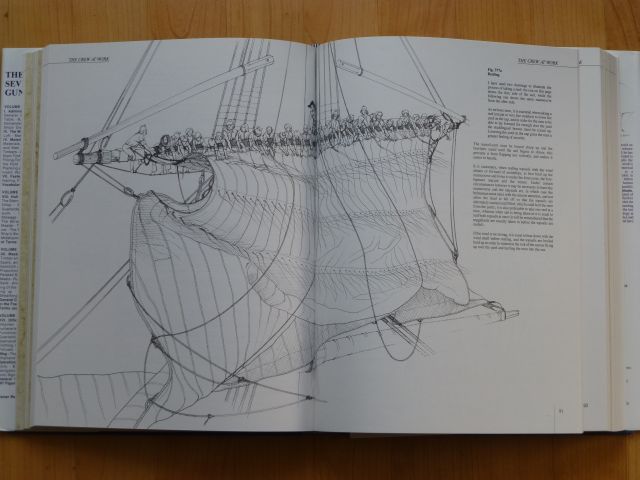 Fazit
Das 74-Kanonen-Schiff wird häufig als Rückgrat der englischen und französischen Flotte im ausgehenden 18. und beginnenden 19. Jahrhundert bezeichnet. Jean Boudriot setzt dem französischen 74-Kanonen-Schiff und den Offizieren und Mannschaften in seinem Werk ein würdiges Denkmal. Die vier Bücher gelten heute zu Recht als das Standardwerk über den französischen Schiffsbau dieser Epoche. Viele der in den Büchern beschriebenen Details lassen sich auch auf französische Linienschiffe 1. Ranges und kleinere Einheiten der Epoche übertragen, da die Konstruktionsprinzipien ähnlich waren.
Für den detaillierten Nachbau eines englischen 74 Kanonenschiffs sind die Bücher dagegen nicht geeignet, da sich die Konstruktion englischer und französischer Schiffe deutlich unterschied; es sei denn, man wählt eine französische Prise, wie die HMS Implacable (ex Le Duguay-Trouin), die in die Royal Navy integriert wurde.

uneingeschränkt empfehlenswert
Christian